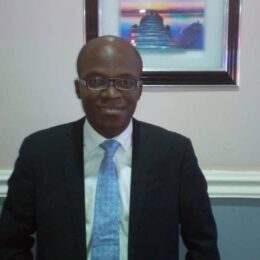 Contact Details
---
Biographical Info
---
Biographical Info:
Adeolu A. Adediran hails from Egbeda local government in Oyo State, Ibadan. He attended is primary school and secondary school at Akure. Graduated from the best University of Technology in Nigeria (FUTA-2009) and did his at the University of first choice, Unilag-2012 and PhD in FUTA.
He is a registered Engineer
Discipline:
Metallurgical and Materials Engineering
Area Of Specialization:
Advanced Materials Engineering, Composites development and Characterization
Institution:
Landmark University, Omu-Aran, Kwara State
Research interest:
He does research in Materials Design with emphasis on elucidation of Material Behaviour under the influence of Stress, Harsh Environments, Contact, and Vibrations; by applying the broad principles of Physical Metallurgy, Materials Characterization and Materials Mechanics. His current projects are centered on Developing Cost and Performance Efficient Engineering Materials for Transportation, Structural, Vibration Control, and other Technological Applications where proper Materials Selection are crucial for overall System Performance.
Awards:
 Research Fellowship to the Department of Mechanical Engineering Science, Faculty of Engineering and the Built Environment, University of Johannesburg (UJ), South Africa (May-Oct. 2018)
 Cogent Engineering Best Paper Award (2020)
 Exceptional Researcher Award for the past four (4) consecutive
years till date.
 Leading researcher out of top 500 authors in Mechanical
Engineering by scholarly output in Landmark University as at October, 2021, 2022 and till date (Scopus-Scival)
 Leading researcher out of top 500 authors in Engineering by
scholarly output in Landmark University scholarly output in Nigeria - Scopus-Scival October, 2021, 2022 and till date (Scopus-Scival)
 Leading researcher out of top 500 authors in Landmark
University by scholarly output in Nigeria as at October, 2020, 2021, 2022 and till date (Scopus-Scival)
 11th top-first 500 authors in Engineering by scholarly output in
Nigeria as at October, 2021 Scopus-Scival
 13th top-first 500 authors in all general field by scholarly output
in Nigeria as at October, 2022Scopus-Scival Computation.
 Awarded Elsevier Plaque for the Most Published Researcher
2022
 Awarded Elsevier Plaque for the SDGs Team of the year 2022 (by the Sub saharan Team representative, Elsevier)
 UNESCO- TWAS CSIR POST DOCTORAL FELLOWSHIP AWARD TO NML-JAMSHEDPUR INDIA, 2021
 Best Paper Award at the International Conference on Applied Research and Engineering (ICARAE2021), Organized by Mechanical Engineering Department, FEBE Cape Pennisula University of Technology, South Africa, 26th – 28th November, 2021
 Top 100 Material Science paper by nature (Scientific Reports), 2021.
 Visiting Senior Researcher, University of Johannesburg South Africa 2022-2025
 Editorial member, Scientific Reports
Roles/Contributions:
Coordinator, International Office, Linkages and Grants Management 2020- 2021
Director, Landmark University Centre for Research Innovations and Discoveries, 2021-2023
College Representative for School of post graduate studies 2021-2022
Website:https://studio.youtube.com/video/DKgVaU2LZeI/edit
Scopus:https://www.scopus.com/authid/detail.uri?authorId=56942524900
Google Scholar:https://scholar.google.com/citations?user=fb-AAogAAAAJ&hl=en&oi=ao
---